PurePro® Floor Standing Dispenser ST-BD

ST-BD
Stainless Steel Made and combined with RO units !


Polished stainless steel water dispenser for the ultimate designer look. Upgrading to this water cooler is like getting a stainless steel American fridge in one's home.
Designed to PurePro's exacting requirements, the water cooler also benefits from a digital display for a 21st Century look.
Product Features:
• RO Water + Great Taste!
• Easily combine with PurePro® RO units
• Designer Bottle-less Water Dispenser
• Quality Components
• 5 Stages of Water Purification
• RO or UV Water Filter Option
• pH Balance Filter (optional)
• Mineral Replacement (optional)
• Stainless steel for ultimate designer look
• Stainless Steel Reservoirs
• Hot, Cold and Room Water Dispensers

Bottle-less Advantage:
• Pure, Low Cost Drinking Water
• No Heavy Bottles to lift or store
• Better Sanitation and Health
• Superior Water Filter Equipment
• POU Water Dispenser is Green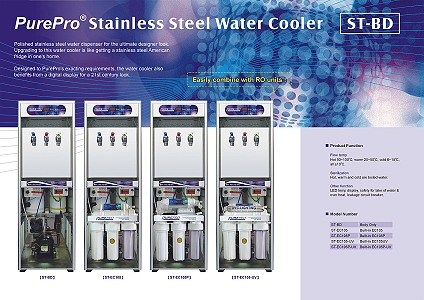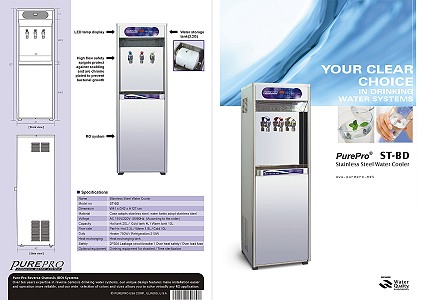 Specifications:
Chilling up to 10 liters per hour
Heating up to 23 liters per hour
RO Production: 200 GPD
Input in: AC 220Volt
Dimensions: (cm) 41 (W) x 42 (D) x 127 (H)
Weight: 27.5 kgs