PurePro® Counter-Top Dispenser!
Our high quality water dispenser can use at the office or at home, to give instant hot and cold water. Ideal for any school, coffee shop, gym or factory area where high usage.
The RO system is an external installation that can be placed under a kitchen sink or inside a cabinet. These filters remove most common contaminants found in city tap water and produce crystal clear, fresh and tasty water – no bottles water!
Bottle-less Advantage:
• Pure, Low Cost Drinking Water
• No Heavy Bottles to lift or store
• Better Sanitation and Health
• Superior Water Filter Equipment
• POU Water Dispenser is Green
Bottle, bottle everywhere…and lots of dangerous plastic bottles everywhere.
Worldwide, people are buying billions of dollars of water in plastic bottles. When the cost of that bottled water is calculated taking into consideration the price of producing the water, the energy required for manufacturing, the oil needed to make the plastic bottles and the green-house gasses emitted during production and transportation…the cost of that water – the dangerous effects of plastic to our bodies and our planet – is much greater than you think.
M103
M103 Series/strong>
Model#
M103S
Sparkling Water Dispenser
M103RO
Counter-Top Dispenser
M103UF
Counter-Top Dispenser
Product Feature
Outer RO System
One liter of CO2 gas Cylinder
Outer RO System
UF Filtration System
Deionization Filter
Function
Sparkling / Cold / Hot
Cold / Hot / Ambient
Cold / Hot / Ambient
 Dimension:

Size: 23(W) x 42(D) x 40(H) cm




                Chilling capacity up to 20 liters per hour




                Heating capacity up to 12 liters per hour
Product Introduction
Inner filter cartridge is only for Model# M103UF

Charms® Counter-Top Dispenser M102H
Bottleless CounterTop Water Dispenser
Available work with Reverse Osmosis filtration system. This machine can serve you hot, cold & room temperature filtered water conveniently throughout the day. Feeling fizzy?
Sleek and elegantly designed, this product will stand-out in your kitchen or even in your office. At 15.25″ tall, the M102 can fit on any standard counter occupying only a minimal area on a table top. High end components that produce legendary quality, reliability and easy serviceability makes this cooler a top of the list for counter filtered cooler buyers.
Connect to RO system, Automatic water filling with RO water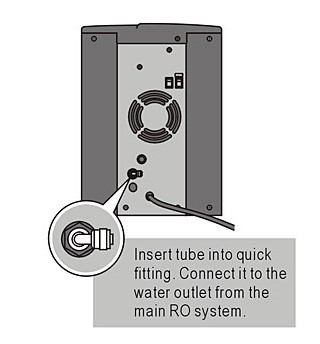 Key Features and Benefits:
• Work with Reverse Osmosis.
• Tabletop Purified Hot, Cold and Ambient Water at a touch of a button.(Optional: Soda Water)
• Simple and easy to use LED Control Panel.
• Adjustable cold temperature.
• Connects easily to cold water line for unlimited filtered drinking water.
• Surgical high grade type 304 Stainless Steel hot, cold and ambient water temperature tanks.
• Hot water safety lock.
• Energy saving sleep mode.
• Antimicrobial coating available

Specifications:
Cold Tank Volume 4 liter
Hot Tank Volume 1 liters
Chilling up: 2-12ºC (approx. 20 liters) per hour
Heating up: 82-92ºC (approx. 12 liters) per hour
Input in AC 220Volt
Dimensions: (cm) 23 (W) x 39 (D) x 39 (H)
Weight: 9.0 kg
Cooling Power Consumption: 100W
Heating Power Consumption: 500W
Model Number
M102H (Cold and Hot water)
POU Water Dispenser is Green !
PurePro® Countertop Dispenser PR-CH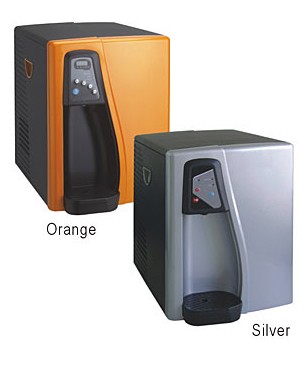 Product Features:
• Countertop Water Cooler
• Offering no-stop cold / hot water.
• Automatic Fill-up with RO water
• Touch switch interface for cold and hot water
• Surgical high grade type 304 Stainless Steel hot, cold and ambient water temperature tanks.
• Safety lock for hot water
• Powerful chill capacity up to 20 liters per hour
• Heating power up to 10 liters per hour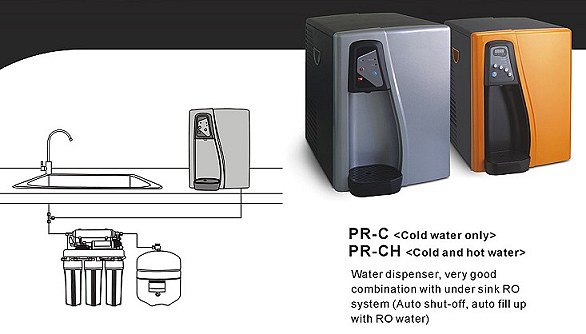 Connect to RO system, Automatic water filling with RO water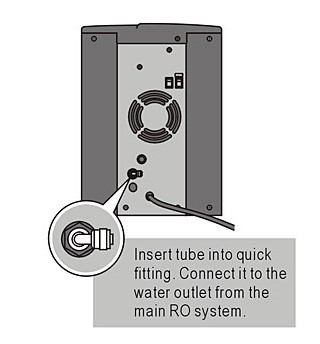 Specifications:
Chilling up to 20 liters per hour, below 10oC
Heating up to 10 liters per hour, above 85oC
Cold Chamber: 4.5L
Hot Chamber: 1.5L
Input in AC 220Volt
Cooling Power Consumption: 150W
Heating Power Consumption: 550W
Dimensions: (cm) 33 (W) x 35 (D) x 42 (H)
Weight: 9.5 kg
Model Number
PR-CH (Cold and Hot water)
POU Water Dispenser is Green !
PurePro® Water Distillers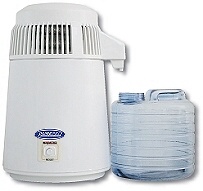 100% pure water (TDS= 0ppm)
Portable type
Easily treat the sea water/ river water
No Plumbing Counter-top !
The highest quality water you can produce in your home is with PurePro Water Distiller no-plumbing countertop drinking water system . These units actually eliminate bacteria and cysts, as well as reduce 99% of most contaminants found in your water. Add the convenience of a countertop unit with no installation required, and you have an excellent way to make PurePro Quality Water a part of your family's life.
100% Pure Water !!
If your family currently buys bottled water you will enjoy significant savings. Owning a PurePro Water Distiller will ensure that your family has a virtually endless supply of bottled-quality water available.
PurePro® Steam Distillation Technology
Steam distillation plus carbon filtration provides you with clean, pure, safe drinking water while enhancing the natural flavor of juices, soups, coffee, tea and other beverages. Distillation effectively removes contaminants such as bacteria, dissolved solids, heavy metals, chemicals, pesticides, insecticides, etc.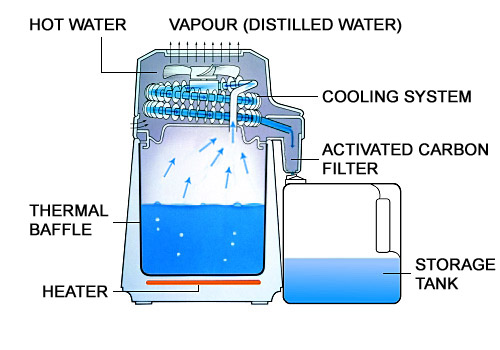 Ordinary tap water is heated to 100° C in a stainless steel boiling chamber, killing bacteria, cysts and viruses that may be present. As the water temperature rises, low boiling light gases are discharged through the gaseous vent. Steam rises leaving behind dissolved solids, salts, and all other contaminants. Steam is condensed in a stainless steel coil. This high quality steam distilled water then percolates through a coconut shell carbon filter. (To enhance the taste). The purified drinking water is collected in the four liter storage bottle (included).
Features:
• Water purification by steam distillation & carbon filtration
• No installation required,
• Provides up to 17 liters in 24 hours
• Easier purify the sea water / river.. etc.
• Reduces lead, arsenic, nitrates, sodium and chromium VI.
• Reduces 100% of Total Dissolved Solids (TDS).
• Advanced design Countertop appliance
• Advanced design Euro-style appliance
• Automatic shut-off after each cycle
• Gaseous Vent & Post Carbon Treatment System
• Stainless steel boiler – 4 liters capacity
• Stainless steel condenser – not aluminum
• Enclosed heating element for long life
• Portable – ideal for home, boat, traveling etc.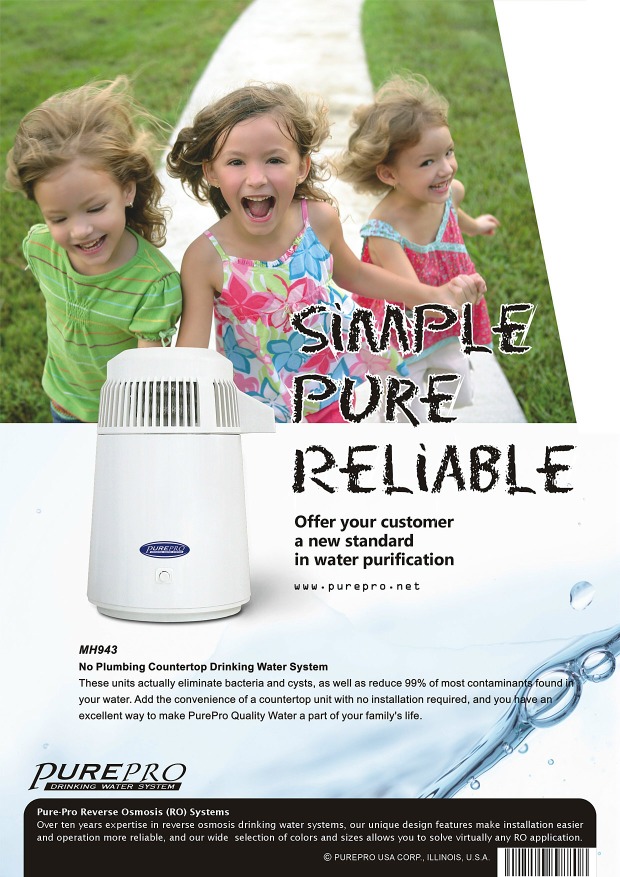 Specifications:
20cm(Diameter) X 36cm (Height) x 40 cm (Width)
Net weight 7.75Ibs (3.5 kgs)
Distillate capacity approx. 3.2 liters in 4.5 hours
Will provide up to 17 liters in 24 hours
Power: 240 VAC – 50Hz – 580W (Total)
Heater 565W / Cooling Fan 15W
Detachable Grounded Power Cord
System Package Includes:
Includes 4 liters collector / storage bottle – (Packaged inside of the distiller for delivery)
Includes packet of 6 carbon filters
Includes (1 x 250 g) residue cleaner
A3 Instant Heater
Congratulations on your wise choice to this instant water Kettle which is suitable for home and indoor use.
This unit is equipped with an individual IC board control heating system and giving you a instant hot water with energy save concept.
Provide you different temperature of hot water with different volume selection.
Features
1. Three different volume selection fit for your daily operation, 150-250ml, 260-350ml and 360-450ml on your request.
2. Three different temperature option, heat up within 6 seconds, 45 – 55oC, 75 – 85oC and 100oC, fit for mixing milk powder, coffee and making tea.
3. Empty Water protection to avoid heater burnt
4. Double Touch Safety lock for hot water

Specifications: 
Maxmium Volume:2.7 Liters
Water Flow: 360 – 450 ml / min
Input in AC 220 Volt(50Hz)
Rated Power : 2200 W
Heating up 200 ml to 100ºC within 30 Seconds
Weight: 2.0 kg
Dimensions: (cm) 18(L) X 25(D) X 30(H)
Voluntary Standard : GB 4706.1 – 2005, GB 4706.19 – 2008