PurePro® Counter-top Water Systems – Astroboy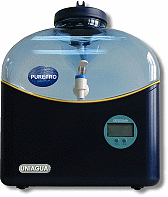 Counter-top Smart RO system !The most user-friendly RO system ever designed.
Own your own bottled water system and save a fortune!
This is your DREAM system !!
If you want to have fresh, clean water, whenever you need it, right in your kitchen. This is your dream system. It is the first drinking water system designed to fit into any space, any budget, and any kitchen. Easy installation, just plug & drink. Perfect for apartments, condominiums, motor homes, retirement homes and students, even a boat.
Advanced RO technologies
ASTROBOY are designed to provide top quality water for your customers who can't or don't want to install an under sink system. Built-in the automatic flushing and self-cleaning procedure, its membrane always remains clean. Water never stands still for a longer time to avoid bacteria growing. You can get the best quality water.
Smart microprocessor control system
This systems gives you a readout for all facets of the RO operation. If the system has a problem, it tells you what the problem is. LCD display shows the service life of filter and tells if these filters need to be replaced, and it is so smart ! even know which filter will be expired.
The most user-friendly RO system ever designed !
We are the world leaders in water purification products providing pure water systems for home, office, medical and industrial applications. Astroboy can be installed anywhere you need, even under low water pressure (you can install it outdoor / motor home / boat or where the source water contains higher than normal amounts of dissolved solids.)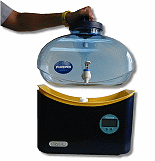 Multi-function tank
Separately design for water storage tank & system. You can take the tank away to anywhere you need.
Features:
• Build-in Smart microprocessor control system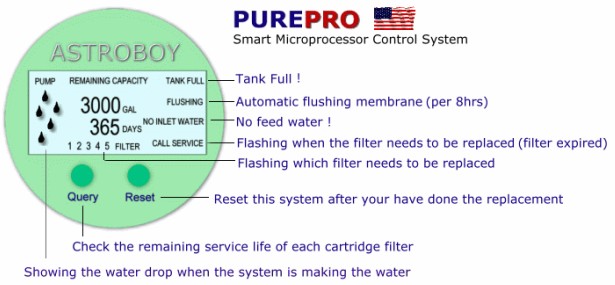 • Complete 5 stage reverse osmosis water filter system.
• Build-in high capacity booster pump.
• Extremely versatile RO system.
• Easy installation, just plug & drink
• LCD display to show the service life of filters
• LCD display to tell which filter needs to be replaced.
• Warning if the filter was expired or out of use.
• Auto shut-off when no feed water come in.
• Self-cleaning procedure to automatic flushing membrane. (every 8 hours)
• Quick-connect fitting for easy maintenance.
• Versatile /Portable water storage tank fits any bottle water dispenser.


Best Travel Companion.
Wide Application: Counter-top / Outdoor / Motor home / Boat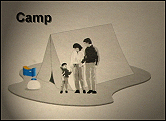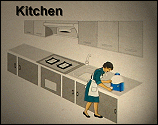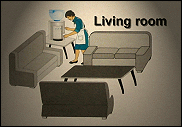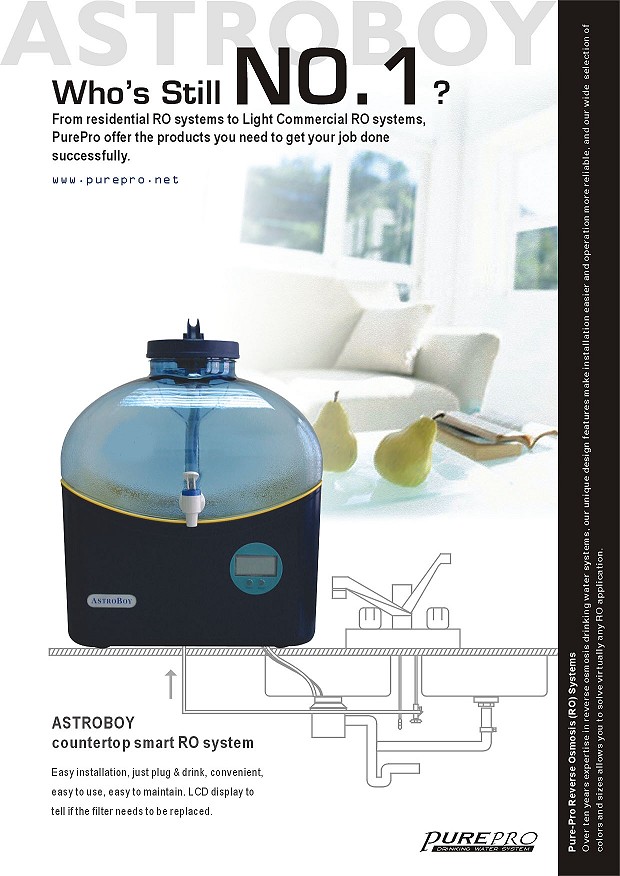 ASTROBOY – cartridge filters
(Stage 1) Inline 5 Micron Sediment Filter :
With only five micron rating. It is effective in removing dirt, rust and sand particles.
(Stage 2) Inline Granular Activated Carbon Filter:
It takes out 99% of the chlorine and organic chemicals. It provides enhanced reduction of taste, odor, and color.
(Stage 3) Inline Granular Activated Carbon Filter :
It provides effective filtration to protect your membrane. It provides for improved membrane performance up to 95% of TDS rejection.
(Stage 4) Reverse Osmosis Membrane:
A thin film composite (TFC) high quality membrane that processes 80 gallons per day. It remove the following hard water contaminants that may be present in your water: lead, cooper, barium, chromium, mercury, sodium, cadmium, fluoride, nitrite, nitrate, and selenium.
(Stage 5) Inline Post Carbon filter:
This carbon post filter removes objectionable tastes and odors to enhance the quality of your drinking water. We are using NSF approved post carbon to guarantee the taste of water.
Specifications:
Production: 80 GPD / 300 LPD
Water storage tank: 4.5 gallons / 17 liters
With a transformer:
-Input in 220 Volt
-Output in DC 24V
Wattage: 30 W
Operation pressure: 10 -100 psi
Dimensions: (cm)36 (L) x 46(H) x 25 (W)
Weight: 12.5 kg